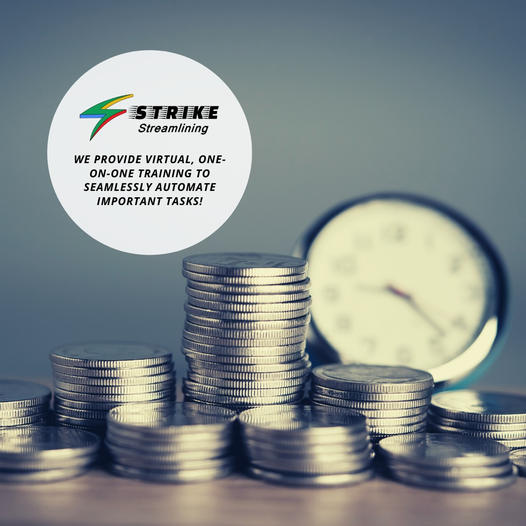 Our simple process makes it easy for you!
1. We meet with you for a FREE, 15 minute consultation, via Google Meet, to assess your current internal process and identify ways to Streamline. An estimate of the number of hours you will likely need for consulting and training to meet your goals will be provided at the end of this meeting.
2. We pick a date on the calendar that works for you for your first two hour session.
3. More sessions are scheduled as needed. This is completely up to you. 
Here are some great features of Strike Streamlining!
* No software or licensing to purchase.
* No requirement for continued sessions – this is entirely up to you.
* We teach you to use tools and help you create processes that work for you.
Contact us for non-business pricing ~ we are happy to work with individuals for their personal needs, with one-on-one training in Google tools. 
Strike Streamlining will:
Provide an overview of how Strike Streamlining works for you

Offer detailed information about streamlining functions

Offer GSuite Certified training for:

Use and application of Google Tools, which can include:

Google calendar

Gmail

Google Drive

GSuite

Google Forms

Google Sheets

Google Docs

Google Sites

Google add-ons for automation

Microsoft Streamlining is available now!
Strike Streamlining can:
Assess your current internal processes, identifying ways to streamline your operation

Make a recommendation for tools and provide training based on your needs. Training may include:

Implementation of a paperless workflow

Development of automated systems to create required documents

Real time information tracking

Staff training for efficient collaboration

Data verification

Audit trail creation
Strike Streamlining services are delivered through:
Live presentations

Video series/tutorials

Professional Development

Consulting